High Efficiency Sample Introduction System (HE-SIS)
Originally designed as a highly efficient single-cell sample introduction system, Glass Expansion's HE-SIS has been redesigned to provide superior performance across a wide variety of applications, including single-cell, single particle, nanoparticle, and low-volume sample studies, with up to 95% transport efficiency.

Key HE-SIS Components
Conventional ICP-MS spray chambers have low transport efficiencies (typically < 5% TE) that filter out larger droplets ( > 5µm) from the nebulizer aerosol. The Glass Expansion HE-SIS features three critical components to overcome this significant sample transport deficiency.
(a) High Efficiency MicroMist™ Nebulizer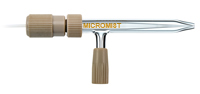 This specially designed concentric glass nebulizer is based on our popular MicroMist™ design, capable of efficiently nebulizing limited sample volumes at low sample and argon gas flow rates.
(b) Patent-pending MicroJet Gas Adapter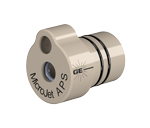 Patent-pending MicroJet gas adapter, which shapes the nebulizer aerosol plume to reduce sample deposition on the spray chamber walls and enhance transport efficiency.
(c) High Efficiency Spray Chamber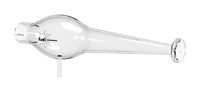 A low-volume, on-axis spray chamber directly couples to the torch, providing the highest transport efficiency and excellent washout between samples.
---
Superior Performance
In a comparison of the average sensitivity, Glass Expansion's HE-SIS provided a factor of 2 to 3 increase compared to another commercially available single-cell or laminar flow sample introduction system (BrandX). The sensitivity ratio of the HE-SIS to BrandX was averaged for 16 masses, ranging low to high at a nebulizer sample flow rate ranging from 4 to 100 uL/min.
This increase in sensitivity is indicative of the high quality design of the Glass Expansion HE-SIS and patent pending MicroJet which greatly improves the transport efficiency compared to other commercially available systems.

---
Optimizing Operating Conditions
With every sample introduction system, the operating conditions should be optimized in order to achieve the best performance possible. In our HE-SIS Webinar we highlight the optimization of the HE-SIS nebulizer and MicroJet.
This webinar is a great introduction to the HE-SIS and can be used as a tutorial to achieve optimum transport efficiency and understand each operating parameter of the HE-SIS and its effect on overall performance.
---
Instrument Specific Installation
In addition to high performance, it is also important to provide a simple and reliable means of installation. Therefore, every HE-SIS is designed to suit a specific instrument model, which includes a mounting bracket support, ensuring proper alignment of the laminar flow spray chamber.
| Part Number | Description |
| --- | --- |
| KT-1155 | HE-SIS for Agilent® ICP-MS |
| KT-1172 | HE-SIS for Thermo® ICP-MS |
| KT-1172 | HE-SIS for TOFWERK icpTOF |
| KT-1184 | HE-SIS for PerkinElmer® NexION 1000/2000/5000 |
| KT-1204 | HE-SIS for PerkinElmer® NexION 300/350 |
| KT-1205 | HE-SIS for NU ATTOM |
| KT-1213 | HE-SIS for Thermo® X Series |
| KT-1215 | HE-SIS for Thermo® Neptune/Element |
| KT-1219 | HE-SIS for Nu Vitesse |
Single-cell Literature
High Efficiency Sample Introduction System Flyer
High-Sensitivity Single-Cell Sample Introduction System for ICP-MS
High Efficiency Nebulizer for Single Cell TOF-ICP-MS Presentation Poster
Towards Automated Routine Analysis of the Distribution of Trace Elements in Single Cells using ICP-MS
Multi-Element Analysis of Single Cells using a TOF-ICP-MS
Please email us at enquiries@geicp.com for more information.
Customer comments