Direct Connection (DC) Nebulizer
The DC nebulizer is our latest design. It has a UniFit sample connector that slides easily over the sample arm and an argon connector configured to connect directly to your ICP. The benefits of the DC nebulizer are:
Inert metal-free argon connector.
Instrument-specific Direct Connect flexible argon line.
Reliable ratchet fitting ensures leak-free gas connection.
In addition to these unique benefits, the DC nebulizer shares the following benefits with the U-Series nebulizer:
Resists blockage: The sample channel is uniform from the entry point to the tip, so there is nowhere for particulates to be trapped.
Fast washout: Since there is nowhere for the sample to be trapped, the fastest possible washout and highest sample throughput is achieved.
Simple to use: Our proprietary UniFit connector slides easily over the sample arm and creates an excellent seal.
Full-length VitriCone construction: With the VitriCone design, the sample channel is constructed from heavy glass capillary which is machined to very high tolerances.
DC Nebulizer Video Installation Guide
Part number A13-07-USS2, SeaSpray DC Nebulizer for Agilent® 5100/5110/5800/5900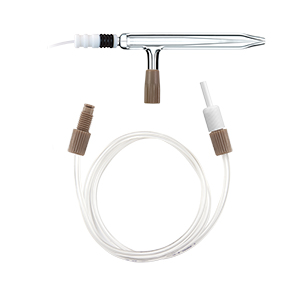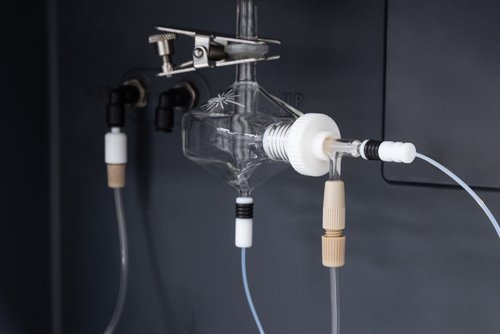 DC versions of the SeaSpray, MicroMist, Conikal, Slurry, DuraMist, OpalMist, and VeeSpray nebulizers are available to suit the most common models of ICP-OES and ICP-MS.
The DC nebulizer part number has a prefix specific to each type of gas connector. For example, the prefix "A13-" denotes a connector for the Agilent ® 5100/5110/5800/5900 ICP-OES, so part number A13-07-USS2 is a SeaSpray nebulizer configured for direct connection to the Agilent ® 5100/5110/5800/5900. See Understanding Glass Expansion nebulizer part numbers for a full list of available DC nebulizers, or Choose a Nebulizer to suit your ICP to see the DC nebulizers for your particular ICP model.
Customer comments