Monitor per Campioni TruFlo
Costante misurazione del flusso in tempo reale
Elimina le congettura
Emette un segnale acustico in caso di fuori gamma
Riduce le ripetizioni del campione
Ideale per l'introduzione del campione per mezzo di una pompa peristaltica o per aspirazione naturale
Adatto a tutti i modelli ICP-OES e ICP-MS
| Part Number | Description |
| --- | --- |
| 70-803-0643 | TruFlo Sample Monitor 0 - 4.0mL/min |
| 70-803-0774 | TruFlo Sample Monitor 0 - 0.05mL/min |
| 70-803-0788 | TruFlo Sample Monitor 0 - 1.0mL/min |
| 70-803-0890 | TruFlo Sample Monitor for HF 0 - 4.0mL/min |
| 70-803-0892 | TruFlo Sample Monitor for HF 0 - 0.05mL/min |
| 70-803-0891 | TruFlo Sample Monitor for HF 0 - 1.0mL/min |
Vi è mai capitato di dover ripetere l'analisi di un campione a causa di:
un nebulizzatore bloccato?
tubi peristaltici consumati?
pressione errata della fascetta per il tubo della pompa?
Grazie al display digitale del Monitor per Campioni TruFlo, è sempre possibile sapere la velocità effettiva del prelievo di campione del nebulizzatore. In questo modo si migliora la riproducibilità quotidiana dei risultati e si riduce la necessità di ripetere le misurazioni a causa di nebulizzatori bloccati, tubi di pompe consumati o fascette errate sul tubo della pompa. Il percorso del campione in vetro borosilicato garantisce inoltre che non si verifichino effetti sulla memoria o contaminazione del campione. TruFlo è anche in grado di emettere un segnale acustico se il prelievo di campione oltrepassa i limiti specificati.
TruFlo è anche un ottimo strumento se ci si affida all'aspirazione naturale del nebulizzatore. Molti operatori, specialmente quelli della spettrometria ICP-MS, sfruttano l'aspirazione naturale per eliminare l'effetto del rumore della pompa peristaltica dalle misure. Con TruFlo è sempre possibile sapere il valore del prelievo di campione ed è possibile agire immediatamente in caso di variazioni. Inoltre, è anche possibile registrare il flusso del campione così da poter controllare ogni giorno che venga utilizzato lo stesso.
Il flusso di campione effettivo è illustrato sul display digitale integrato TruFlo e sul computer è possibile visualizzare un grafico del flusso in funzione del tempo.

Si possono impostare i limiti superiore e inferiore per l'intervallo del flusso di campioni accettabile.

Se il flusso di campione supera i limiti dell'intervallo prestabilito, si riceve un avviso sullo schermo e/o un segnale acustico.
Questa situazione si verifica quando il flusso è limitato a causa di un'ostruzione o una perdita. Si verifica anche quando il tubo della pompa si consuma. Spesso i tubi della pompa vengono sostituiti troppo presto o troppo tardi.

Con TruFlo si conoscerà in ogni momento il flusso di campione effettivo e non sarà necessario convertire i giri della pompa in flusso del campione.

La visualizzazione del flusso in tempo reale consente di ottimizzare la pressione sul tubo della pompa peristaltica, massimizzando la vita utile del tubo e migliorando la precisione analitica. Una pressione elevata avrà come risultato la rapida usura del tubo e un rumore più elevato. Una pressione insufficiente avrà come risultato un flusso irregolare. Nella visualizzazione sopra, la fascetta è stata stretta di mezzo giro per ogni freccia.
Specifiche TruFlo
Percorso del campione: vetro borosilicato. Adatto per le soluzioni acquee, solventi organici e la maggior parte di acidi. Non adatto per l'acido idroflorurico (HF).
Flussometro: sensore termoelettrico non invasivo
Intervallo flusso misurabile: 0 – 4,0 ml/min
Intervallo flusso calibrato: 0,2 – 4,0 ml/min. TruFlo è utilizzabile con flussi di campione inferiori a 0,2 ml/min con un'ottima ripetibilità, ma la precisione potrebbe non rispettare l'intervallo prestabilito.
Soluzione di calibrazione: acqua deionizzata. TruFlo è efficace nell'identificazione di variazioni del flusso di campione con soluzioni non acquee, anche se la precisione assoluta della lettura del flusso potrebbe non rispettare l'intervallo prestabilito.
Precisione lettura flusso: +/-5% (con acqua deionizzata, entro l'intervallo di flusso calibrato).
Volume interno: 0,13 ml
Peso: 300 g
Dimensioni: 100 x 40 x 60 mm
| Part Number | Measurable flow range (mL/min) | Calibrated flow range (mL/min) | Internal volume (mL) | Sample path |
| --- | --- | --- | --- | --- |
| 70-803-0643 | 0 - 4.0 | 0.2 - 4.0 | 0.12 | Borosilicate glass + PEEK |
| 70-803-0774 | 0 - 0.05 | 0.001 - 0.05 | 0.033 | Quartz + PEEK |
| 70-803-0788 | 0 - 1.0 | 0.03 - 1.0 | 0.055 | Borosilicate glass + PEEK |
| 70-803-0890 | 0 - 4.0 | 0.2 - 4.0 | 0.12 | HF resistant |
| 70-803-0892 | 0 - 0.05 | 0.001 - 0.05 | 0.033 | HF resistant |
| 70-803-0891 | 0 - 1.0 | 0.03 - 1.0 | 0.055 | HF resistant |
Non-aqueous solutions
The TruFlo is normally calibrated for aqueous solutions. With non-aqueous solutions, it can be reliably used to detect any change in the sample flow, but the actual flow reading will not be correct. If you routinely run non-aqueous solutions you can order a TruFlo calibrated for your specific application. You will need to specify what solution you are using and the TruFlo will be supplied pre-calibrated for your solution. When you order the TruFlo, simply add:
Part number 70-TFCAL, TruFlo calibration service.
QA Kit
The QA Kitis a convenient package combining the TruFlo Sample Monitor, Inline Particle Filter, Eluo Nebuliser Cleaning Tool and Eluo Adaptor for Inline Filter.
The Inline Particle Filter is easily inserted in the sample tubing between the autosampler probe and the nebulizer and greatly reduces the risk of a blocked nebuliser.
The TruFlo instantly detects any reduction in the sample flow due to particulates trapped in the filter.
The Eluo and the Adaptor provide a quick and effective way to back-flush the filter and minimize any downtime.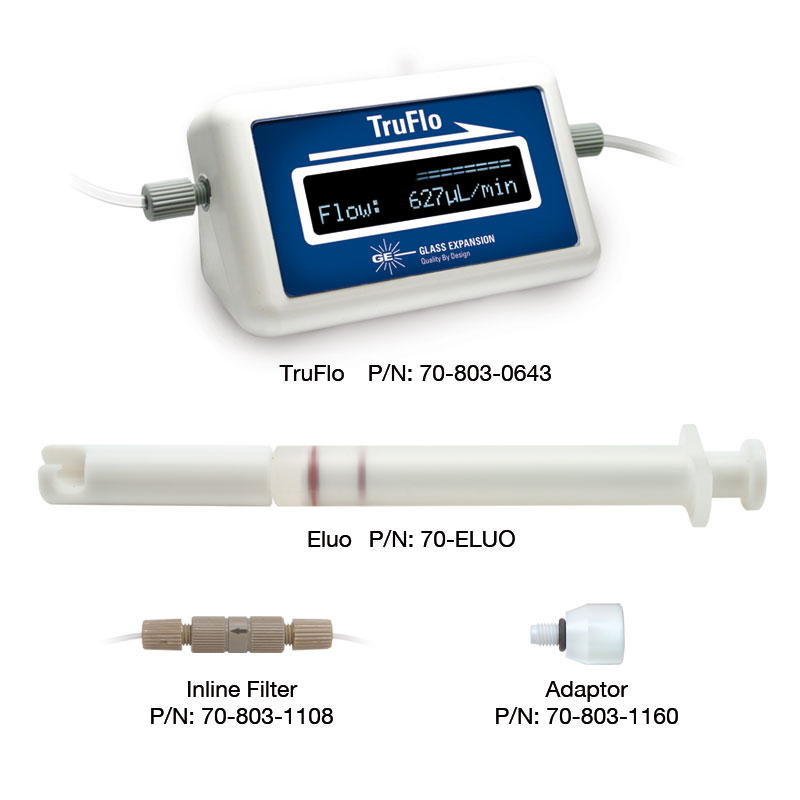 The QA Kit enhances the day-to-day reproducibility of your results and greatly reduces the chance of a blocked nebulizer.
Ordering Information
Commenti dei clienti